Theo Benoît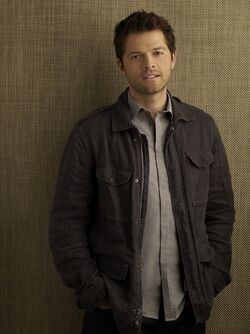 Portrayed by
{{{AltCasting}}}
Appeared in
{{{Appearances}}}
Episode(s) featuring non-centric flashes
{{{NonCentricFlash}}}
Date of death
{{{Death}}}
On the island...
...Crashed on the Island
Theodore Benoît or simply, Theo, is one of the main characters of LOST: The Next Generation. He is portrayed by Misha Collins.
Before the Island
Edit
Not much is known about Theo's past but he is familiar with Paik Industries and is involved with them somehow. ("Encounter at Far Point")
Not much is known about why Theo was on the La Mer, but Ned passed by him in the hallway, overhearing him screaming on the phone about Paik Industries 'pulling out' of something unknown. ("Encounter at Far Point")
On the Island
Edit
Season 1 (Days 1 - ?)
Edit
Following the crash, Ned handed over a young girl named Katy to Theo. Theo made a pinky promise to Katy that he would find her missing father for her. He had a conversation with Emily shortly after the crash. After arriving on the beach, Katy went missing and Theo was scolded by Ned and Jonathan for losing sight of her. He tagged along with Ned, Leigh, Jonathan and Marcus in order to find her. When they did, she showed them a red apple she received from a man in the jungle. She says the man told her that he and his friends would be watching everyone. ("Encounter at Far Point")
Theo reluctantly agreed to Ned's plan on keeping what Katy found in the jungle a secret so they wouldn't induce panic at the beach. Theo left Katy with Emily so he could go off and find some supplies from the wreckage in the jungle. Emily suggested she go off and look at the wreckage, but Theo insisted he go do it. Emily asked why, Theo blew up on her, and then quickly apologized. He tells her that he knows Katy doesn't trust him due to him letting her wander off like that, and quite frankly, she has no reason to. He walks off sadly. At the wreckage, Theo strikes a conversation with Roz and takes a few things from the wreckage. When Mats arrives, Theo abruptly leaves. Upon returning to the camp, he sits down around the campfire next to Emily and Katy, and he hands Katy a pair of sunglasses and Katy gives him a tight hug. Emily smiles at him proudly, he smiles back, realizing that Katy does, in fact, need him. ("The Twelfth Step")
Originated from Greece, the name Theodore means 'divine gift'. Similiar to that of Matthew.
Benoît is a male given name, as well as family name. It is sometimes spelled Benoit or, less frequently, Benoist. The name is the Old French word for "blessed". It is also a common surname.